Do stop and join me for a little - you may read something to your advantage, as they say. You will have to bear with a bit of show and tell first, and then comes the exciting bit.
The absence of Princess Bunchy on an adventure has given me a teeny, tiny bit of time on my hands in between washing and ironing the bedlinen at our little cottage B&B (go on, come and stay - you know you will enjoy it!), and I find myself in a distinctly cushiony stage in my life. You may remember that last weekend I was having some fun with a
great little gadget
called a Go! Baby fabric cutter which the kind people at Accuquilt sent me to try out, and I made a patchwork cushion which the princess pounced on.
Well, her absence from by the side of my dear Rose has enabled me to make a cushion for myself (or rather for my sofa, as I would prefer not to be sat upon). One of the dies I received with my Go! Baby cuts 4-inch quarter-square triangles, and came with a free pattern for an 8-inch hourglass block.
Four of these blocks very conveniently make a 16-inch square, perfect for a cushion - and what is even more perfect is that by fan-folding my fabric into four layers I could cut 32 triangles in one pass through the machine. So two passes through the cutter (one for each colour) and I had all 64 triangles for the cushion - and I think this is where the Go! Baby really does come into its own.
The fabric was two fat quarters from
Leila's shop
(and I had some left from each fat quarter), and then I backed the cushion with some blue check left over from the
Dorothy dress
. All those red triangles remind me of the kitten heels on those ruby slippers which were quite a task to find.
And don't tell the Head Chef, but today when I found myself ten minutes early for an appointment, and sauntered into my favourite sewing shop to, er, kill some time, in a fit of Go! Baby-induced cushion madness, I sauntered out of the shop again with three unconscionably tempting retro fabrics which would look oh so nice on my sofa (and would enable me to try out another of Accuquilt's free patterns which you can find if you click on the picture - you can download two PDF booklets for free).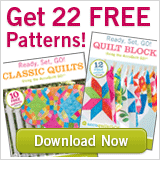 Now for the really exciting bit: Accuquilt have very generously offered up a Go! Baby fabric cutter plus three dies and appropriate cutting mat, to be despatched to one of you, dear readers! (No, I can't quite believe it myself - a prize worth over $200.)
I will tell you how to enter,
but first, and most importantly please, please, please make sure that you have an email address in your Blogger profile
(on the top left of your Dashboard, click 'Edit Profile', make sure you have ticked the 'Show email address' box, and entered an email address). You will not get spam by doing this - I certainly don't. And it also means that I can reply to your comments - if I have never replied then you probably have not entered your email in your profile, and are thus a 'no-reply blogger'. For every giveaway I have done, 'no-reply bloggers' enter, and if I can't contact you by email then you can't win. If you are not on Blogger, just put your email address in the comment box.
And that is the end of the finger-wagging, now I will tell you what you have to do.
1a. You must be a Follower - you can start following now if you like.
1b. Go to the Accuquilt site
here
and pick out which three die cutters you would like if you win.
1c. Come back here and in the comment box tell me which cutters you have chosen.
These three steps will give you
one
chance to win.
2. If you would like a
second entry
, grab the photo below (Right click and save to your computer) and put it on your sidebar with a link back to this blog - come back and tell me you have done this.
3. For a
third entry
, do a blog post about the giveaway, and come back and tell me.
I will leave the giveaway open until the end of next week, and then see what exciting person I can find to do the draw - entries are open internationally, so wherever you are, do have a go! baby (sorry, I just couldn't resist that one . . . ).