I don't know why it is, but every time that I have to pick a giveaway winner, the weather takes a turn for the worse. This afternoon it is blowing a complete hoolie, just perfect for blowing little bits of paper right across the garden, and whipping up the sheets (yes, more sheets to iron) so that they cast a long shadow.
So I hope that you will all sympathize with me, cutting up 160 something bits of paper, and folding them all up neatly, and then battling the gales outside - I promise you not one of you got lost until after the draw when things fell apart rather.
Mad Dog was not available to do the draw this time, having been taken off by the Ploughboy to chase rabbits. And in spite of her strict
régime
, the vet tells us that Teddy-Face is still not as svelte as she might be, so not being sure of the calorific content of paper, we needed another contender. I turned around, and lo and behold! (it's getting to be a habit round here), there I found a little stranger.
Being a particularly little stranger, I thought a particularly shallow dish would be best, and one quite broad in the beam moreover, and the Little Stranger does not have quite such a snouty snout as the Mad Dog.
She was also a little slow on the uptake and much as I would love to give you all an Accuquilt Go! Baby fabric cutter, there is just the one on offer, so turfing all of you onto the grass was not really a way to make progress.
As fast as I piled you all back in, the Little Stranger nuzzled you back out, and then Teddy-Face joined in the party, no doubt on the prowl for extra calorific intake.
After one heave-ho too many, I decided that a jump-off, or possibly nuzzle-off, was the fairest option. So everyone who was on the grass was scooped up into another, more confining bowl, and we had another go.
Having satisfied herself that there were no treats to be had from this receptacle, the Little Stranger picked up a paper in her mouth and trundled off - and thus we had a winner.
The Head Chef swooped to retrieve that winner, at considerable risk to life and limb, as the Little Stranger was quite unwilling to give up her prize and snarled most ferociously.
But all's well that ends well: the Little Stranger found something far more interesting to bite, and dropped the little piece of paper by the wayside.
Before I reveal that lucky person, my commiserations to all of you who didn't win this time. Remember, as a consolation prize you can click on the picture below and Accuquilt will give you two PDF booklets of patterns for quilts and blocks suitable for cushions, etc. There are patterns for all levels of skill, and if you are signed up for the Accuquilt newsletter, they do send out special offers and discounts on the cutters and dies. (I think there are going to be a few dies on my Christmas list this year - I rather fancy some strip cutters for some log cabin work I have planned, so I might just sign up the Head Chef as well.)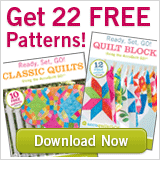 So after all the cutting and folding and battling the element, here is the winner:
susan
I will be emailing you shortly. Congratulations on your win - all thanks to the Little Stranger.